Stacia
"I don't know if anyone has ever told you this, but your hair has amazing elasticity."
It's not exactly the compliment you'd expect to give or to receive, but I've recently started paying more attention to my hair - in an effort to bring it back to life - so it was something I noticed. I was curling my friend's hair while we all got ready for formal, and her hair had just incredible elasticity.
So while everyone is doing the "ten year" challenge, you'll find me mostly refraining. In part because I don't have time to process through the feelings that ten years of reflection will bring up, and in part because it doesn't show the various phases and stages I went through. Ten years ago I was a senior in high school. Now, I'm in my second (and final) year of grad school. Ten years ago, I had hair almost to the end of my ribs that was a bright blonde color (a by product of sun, Sun In, and youth). It would effortlessly be wavy after just a was and some mousse and a messy bun the night before. It was full and had great volume. It was under appreciated. Again, youth.
Then, in an effort to prepare for college, I chopped it all. I donated my hair to Locks of Love and started college with a cute little bob below my ears. SO CUTE! OMG! PERFECT! The next few years were spent hair stylist hopping - with each one adding their own layers to my hair until it was more layers than hair and never did what I wanted. Frustrated, I thankfully found someone who would patiently stay with me throughout the years of growing out the layers. She would trim and level my hair ever few months. Another layer would grow out, she'd help it match the previous one, and now, after years of waiting, my hair is just about one length. It would have been a faster process if I hadn't have cut my bangs three years ago on a whim (I blame New Girl), but alas, I digress.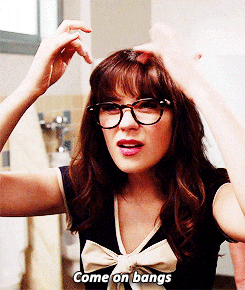 Fast forward to a year ago when I moved multiple states away for graduate school. I noticed my hair looking darker and more red than ever before. I thought I was going crazy until I saw pictures of myself side by side. Nope. I wasn't going crazy. But seriously what was doing this? Turns out it was the hard water in town. My house didn't come with a water softener, and I had no idea that the water was going to slowly turn my hair dark red. What. In. The. World? Did the water not know I was getting married soon and planned to have my blonde hair be just that - blonde. I spent months using lightening and brightening shampoo with who knows what in it.
[Left: my hair after just a few months of the hard water. Right: my hair almost exactly a year later having changed hair care products. Still with hard water, but almost back to the golden blonde it started as. Zero hair dye was used between these two photos.]
Shortly after the wedding, I started using a new shampoo and conditioner to help bring back some of the volume I so missed from ten years ago. My hair got healthier. I went home to visit my family and even my sisters noticed. I borrowed their shampoo and my hair felt like plastic straw by the end of the weekend. So, I stuck with the shampoo and conditioner I had found. I started using their other hair products. I joined their VIP program so I could get free shipping, a discount, and free products with my order. Worth it. I came back to my same hair stylist. She (and other clients) noticed how healthy my hair was. I've started doing almost weekly hair masques (almost as much for my mental health as my hair health).
The funny thing is, my hair routine has become easier - not harder. I spend less time fighting frizz and static (enemy number 1 in the winter). My hair has stayed blonde even with the hard water. My hair can hold a curl better than before (I didn't use any hairspray when I did my hair for formal. Other products yes, but hairspray, no), and it has regained some of the fullness I lost in the last ten years. I'm starting to like - not fight - my hair again.
[If you'd like more info on the products I used or to take your own hair quiz click here.]